MacBook Pro, MacBook and MacBook Air Battery Replacement/Repair Service Mississauga, Oakville
Service Battery, Replace Battery Messages
This is the message (service battery) that appears at the right upper corner of an Apple laptop. This message can be due to different reasons. Wear and tear is the first reason. This means, the battery life is either over or going to be over soon. When battery has problems, it will display some other messages too. The most common ones are "replace battery", "replace battery now", "service battery", "service battery now" or there will be an X sign on the battery icon. All messages mean the battery needs replacement. There is no such thing like service except one scenario and this is when the battery has some kind of liquid damage and there is some issue with some of the components. Replacing those components is needed to get rid of the message. These messages are same for all MacBook models new and old.


Batteries Used in Pre-Unibody Models
What to do and what kind of batteries are installed in different MacBook Models. I will now explain that in detail. The white MacBook (model a1181) from 2006 takes a1185 battery in white color and rectangular shape. This one also comes in black color with black version of the same model. The battery can be removed by opening the lock with a flat screw drive or any metal with flat shape. This is one of the easiest installations of a MacBook Battery. The next model is the 15 inch MacBook Pro. A1226, 15 inch model uses a1175 battery with square shape and silver color.

Battery Requirement For Unibody Models
The 13 inch MacBook Pro a1278 takes a1322 battery except the 2008 model that has a small battery compartment on the bottom side. The cover comes off of this 2008 model by pressing a button and the battery can be pulled off easily. This is called Macbook in silver color but it looks like 2009 MacBook Pro model. The battery model this MacBook takes it is a1280. The battery color is silver and the shape is rectangular. A1286 is a 15" MacBook Pro from 2009 to 2012 comes with two battery models. One is a1382 and the other one is a1321. Both these batteries are black in color, rectangular shape and are installed inside the machine covered by a bottom cover. A1278 the 13" MacBook Pro (as discussed above) battery also fits inside the machine just like a1286. A1297 is a 17 inch MacBook Pro which takes two different models of batteries. One is a1309 and the other one is a1383. Both these batteries are black color and are in rectangular shape. Both are installed inside the machine. Bottom cover must be removed to replace the battery. The batteries that are installed inside the MacBook from 2009 to 2012 are secured with different kinds of screws. If you want to remove or replace the battery, make sure you have the right screw driver for these batteries.

Battery Requirement for MacBook Air Family
So far we have discussed MacBook Pro laptop batteries but we also know that Apple has a different family of laptops known as MacBook Air. They come in two screen sizes i.e. 13 inch and 11 inch. The 2008, model a1237 MacBook Air takes a1245 battery. The model a1369 from 2009, 2010, 2011 and 2012 take a1405 battery. A1466 models (from 2013 to 2017) in 13 inch take a1496 battery. The 11 inch and 13 inch use different type of batteries. The 11 inch MacBook Air a1370 uses a1375 battery. The 2011, 2012, a1465 uses a1406 battery. The 11 inch from 2013, 2014, 2015 take a1495 battery. A1965 is the model used in 13" Air from 2018 to 2019. These Air models from 2009 to 2019 have almost similar flat shape batteries that are installed inside the machine and are secured with a few screws and some with double sided tape. These batteries can be removed by removing the bottom cover of the machine or the by cutting double sided tape.
Battery Requirement for 1st Gen Retina Models
Let's jump to a different family of Mac laptops i.e. the new MacBook and MacBook Pro. This family consists of 15 inch MacBook Pro Retina, 13 inch MacBook Retina and 12 inch MacBook. The 15 and 13" models are from year mid 2012 to mid 2015. The 12 inch MacBook came in 2015. Both 13" and 15" MacBook Pro models take different battery models. The 2012 model takes a1417. The 2012 13" a1425 MacBook Pro takes a1437 battery. The 2013 and 2014, 13 inch MacBook Pro a1502 takes a1493 battery. The 15" MacBook Pro (2013, 2014) takes a1494 battery. The 2015 a1398 model takes a1618. The 13" for 2015 takes a1582 battery. The 12 inch MacBook takes a1527 battery. All these batteries are installed inside the machine with the help of strong double sided tape. This is a visible change when it comes to the way batteries are installed in Apple laptops.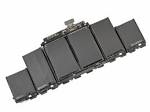 The Newest Grey Family MacBooks Retina Models and Battery Models
A1706 MacBook Pro 2016 and 2017 takes a1808 battery. It is installed inside the system with the help of double sided tape. A1708 is the 2017 MacBook Pro 13" that takes a1713 battery. A1707 is the next one in 15 inch that takes a1820 battery. The 13" 2018 MacBook Pro a1989 takes a1964 battery. The 15 inch 2018 and 2019 MacBook Pro a1990 takes A1953 battery.
Battery Installation
Battery installation in these models needs experience and skills otherwise chances of damage exist. Hopefully the 2020 and up models will have the same type of battery installed inside the system with double sided tape but with different model numbers. Replacement or repair prices always vary. The older the machine is, the cheaper the battery will be. Newer models batteries are expensive.
Normal Battery Life
Laptop batteries don't last forever. Battery time goes down with the passage of time. Every six months to one year, the battery backup time decrease. Mostly after two years, battery will mostly need replacement. Some batteries have more charging cycle count than the other. It is recommended to charge battery to 100 percent and then discharge it until a new charged is needed. MacBook Pro laptops always give a warranting when battery is low. The Apple osx displays the battery charge percentage which helps when to charge the battery again.
What We Can Do You:

We at Computer Star change batteries for all the above models. We keep most of batteries in stock. We can mostly replace these batteries in a couple of hours. Our Apple Certified Technicians are trained to do the job properly. We offer six months warranty for battery replacement. We use good quality batteries. We also stock used batteries for most models. Please call today to get a quote for your model.