MacBook Air Repair by Apple Cerfitied Technicians
Models We fix:
We repair all models of Apple's MacBook Air laptops including a1466, a1465, a1370, a1369. We work on all 11 inch and 13 inch MacBook Air models. We work on all new and old models.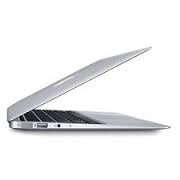 Screen Replacement And Repair:
We replace and repair all MacBook Air models. We can replace just the LCD or repalce the whole display assembly. This part is the most expensive part after the logic board. The LCD replacemen might cost less but replacing the whole asssembly is the best solution because it is factory assembled part. We can repair lcd cable if broken, Hinge replacement is also possible. We sell rubberized covers for 11 and 13 inch MacBook Air machine. We can fix backlight issues, no picture or distorted picture problems. Most common issues are physical damage, liquid damage, no backlight, black screen, discoloration, lines on screen, white spots, vertical or horizental lines, white screen, grey screen and other symptoms.
Keyboard And Trackpad Repair:
Keyboard and trackpad issues are also common. We repair and replace keyboard keys, whole keyboard. Keyboard and trackpad usually can go bad after liquid damage. We can repair existing keyboard and trackpad as well as can replace them. We have all parts available in store. We can repair US as well as British or European keyboard. In case of liquid damage, we first look at the situation. If the problem is with keyboard and trackpad, we either repair them or replace them. We repair and replace trackpad cable and can fix trackpad in most cases wthout replicing it. This saves time and extra cost. We repair keyboard with problems like the whole keyboard would not work, some keys would not work, missing keys, broken key locks / brackets, sticky keys due to liquid damage, bad connection, damage keyboard controller. Trackpad we fix usually have problems like no clicking, no cursor movement, slow or fast cursor movment, cursor or ghost clicking.